Name:
WindowCapture
Version:
1.1
Date:
10/11/2006
CRC32:
F32D4521
MD5:
66ED4CDBB3D2515BB9FFD93679DA773D
SHA-1:
D64217D8E3767AC7C076AC2FE27875F166B53D4C
Category:
Utility
Author:
LHammonds
Cost:
FREEWARE
Compatibility:
Windows 95/98/ME/NT/2000/XP/2003/Vista/Win7
Source:
TESNexus
Mirror #1:
Elric Melnibone
Homepage:
OBMM How-To Site
Description
Captures a screenshot in JPEG format of only the active window when PRINT SCREEN button is pressed.
NOTE: This is not for DirectX games. It is for your desktop and window applications.
This can be very handy when creating tutorials with many screenshots.
When capturing the entire desktop, you are almost guaranteed that you have to "crop" the image.
Careful sizing of an active window with this application may completely avoid the necessity to edit the image.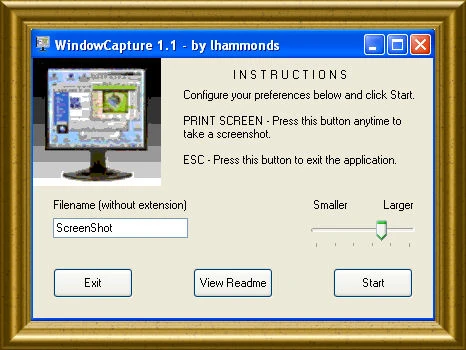 Details
Each filename has a number at the end which increases by 1 after each screenshot. The files are saved to the same location where WindowCapture.exe is running.
This allows the user to take multiple shots in sequence without having to enter a new filename each time.
Usage
Run WindowCapture.exe, if you want to adjust some settings, it is very obvious. Click the Start button.
An monitor icon will display in the bottom-right corner while the program is running.
With the desired window active, press the PRINT SCREEN button on your keyboard to take a screenshot.
Press the escape (ESC) key to close the application.
Sounds
If you have a functioning sound system, you can hear the following sounds:
- An upwards "lift" sound will be played when you click the "Start" button signifying that the program is ready to begin taking screenshots.
- A camera "click" sound can be heard when the screenshot is being taken.
- A downwards "lift" sound will be played when you press the escape (ESC) button signifying that the program is closing.
Installation
None required, just run the WindowCapture.exe file. It copies temporary files to your Temp folder while in use and deletes them when closed properly by pressing the ESC key or Exit button.
Upgrade
Delete the old file, use the new one.
Uninstall
None required, simply delete WindowCapture.exe when the program is not running.
Incompatibility
None known.
Known Issues or Bugs
None.
History
1.1, 2006-10-11 - Program will no longer write over existing files on subsequent starts.
1.0. 2006-10-11 - Initial release.
Future
I might tweak the user interface a little but there isn't much in the way of what can be done capturing screens except whether it's the active window or the entire desktop, JPEG or BMP.
BMP images are uncompressed and is useless to me since the file size is too large and impractical for distribution.
Contact
You can find me on the official Elder Scrolls forums as '
Conan_Lon
'
You can find me on TESNexus as '
LHammonds
'
Credits
Thanks to Jonathan Bennett for
AutoIT 3.2.0.1
Thanks to Neil Hodgson for
SciTE/Scintilla
Thanks to YDY (Lazycat) for the
Screen Capture DLL file
.
Licensing/Legal
This program is provided as-is with no warranties expressed or implied.
I won't be held liable for any damage related to it's use.
There is nothing that can be considered malware in this program such as virus, trojan, adware, or spyware in it's original distribution.
If this program gets romantically involved with your significant other and runs away with him/her, I won't be held responsible for that either!
Source code available upon request.