Name:
Kynareth Armory
Version:
1.0
Date:
3/21/2007
Category:
Weapons and Armor
Required:
7-Zip
Recommended:
Oblivion Mod Manager
Author:
LHammonds
Source:
TESNexus
File Mirror #1:
Planet Elder Scrolls
File Mirror #2:
RapidShare
RELz Thread:
The Elder Scrolls Forum
Homepage:
OBMM HowTo Site
Description
The Kynareth Armory consists of the following equipment found at the Imperial Market:
- Heavy armor set (Male/Female) at The Best Defense
- Shields at Stonewall Shields
- Robes (Male/Female) at Rindir's Staffs
- Longswords at A Fighting Chance
Armor is equivalent to Steel.
"Fine" versions of the sword are equivalent to Silver.
"Fine" versions of the shield are equivalent to Dwarven.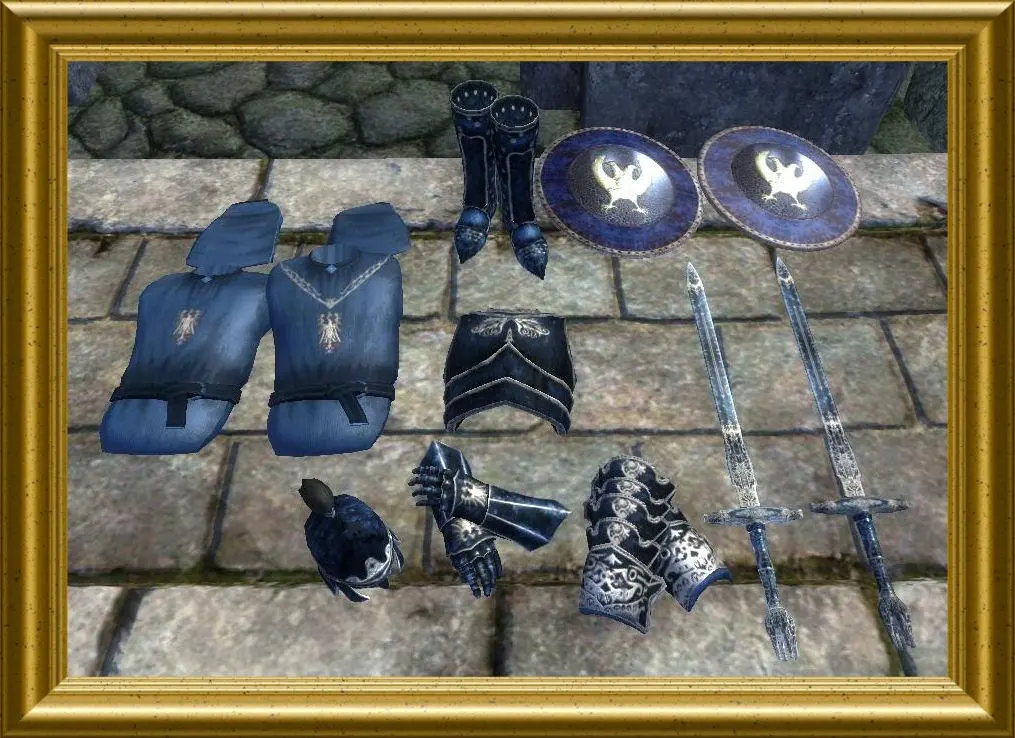 Details
I took the modder's resouce and renamed all the files, created an ESP to place them in the game, fixed the texture paths and used the correct "back slashes" in the texture paths.
Alternate "Fine" versions of the sword and shield were created using a reflection technique taught to me by VagabondAngel.
The menu inventory icons were re-created from scratch.
Incompatibility
None known.
Known Issues or Bugs
None Known.
History
1.0, 2006-03-21 - Initial release.
Future
No plans.
Contact
You can find me on the official Elder Scrolls forums as '
Conan_Lon
'
You can find me on TESNexus as '
LHammonds
'
Credits
Thanks to ADCK who created the
mod resource
Thanks to VagabondAngel for the reflection technique used on the shield and sword.
Thanks to Jerros for the female model which is Tralina from his
Xender's Angels and Heroes
mod.
Tools Used
DDS Converter
NIFSkope
Oblivion Mod Manager
Photoshop
Readme Generator
TES4Files
TES Construction Set
Licensing/Legal
You can do whatever you want with this mod but all I ask in return is that you give ADCK and myself credit if you distribute any part of this mod. I would also like to know what mods are including this work.