Name:
Stargate Ori Staff
Version:
1.0
Date:
7/21/2008
Category:
Weapons and Armor
Requirements:
7-Zip
Author:
LHammonds
Source:
TESNexus
RELz Thread:
The Elder Scrolls Forum
Homepage:
OBMM How-To Site
Description
This is a modders resource of the staff wielded by the Ori in the TV series called Stargate SG-1.
The included plugin basically lets you test it out in-game.
The staff can be purchased in the Imperial City Market District at A Fighting Chance.
Screenshot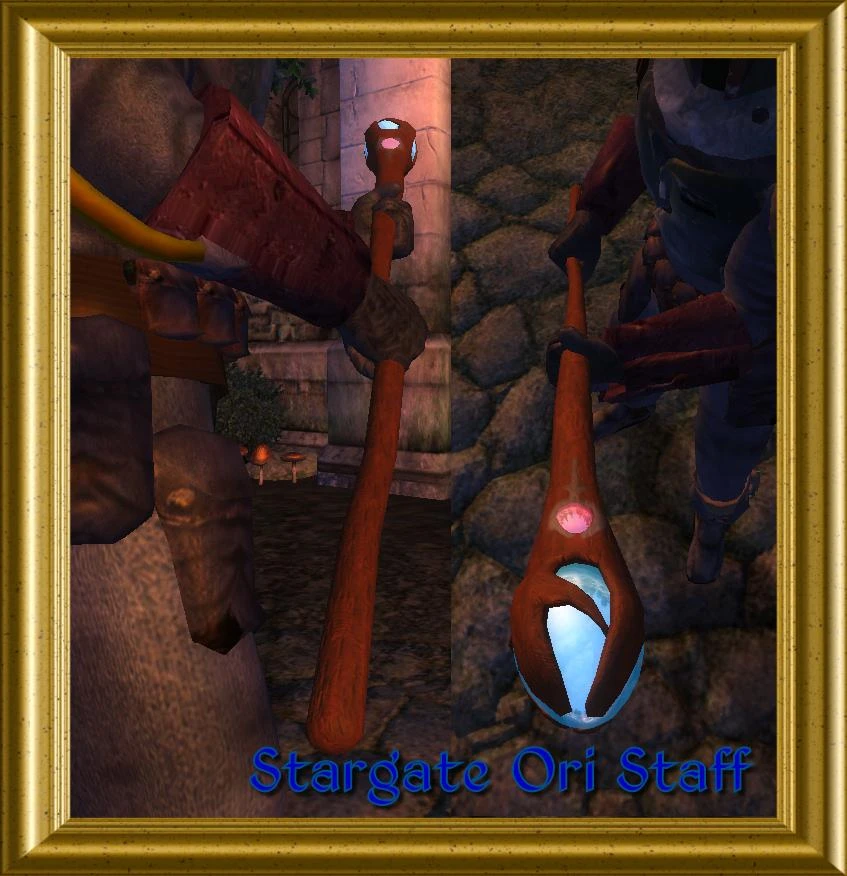 Install
Please see the readme file for details.
Incompatibility
None.
Known Issues or Bugs
None.
History
1.0, 2008/07/21 - Initial release.
Future
Nothing planned.
Contact
You can find me on the official Elder Scrolls forums as '
Conan_Lon
'
You can find me on TESNexus as '
LHammonds
'
Credits
Thanks to Bethesda for creating Oblivion.
Thanks to MGM for all the Stargate series.
Thanks to TESNexus.com for the a one-stop-shop resource for authors and players.
Thanks to God for creating us all.
Tools Used
7-Zip
Blender
DDS Converter
ESPluginCracker
NIFSkope
Paint Shop Pro
Readme Generator
TES Construction Set
Licensing/Legal
Consider this a modder's resource. You can do whatever you want with this mod but all I ask in return is that you give credit where it is due if you distribute any part of this mod.