Name:
Mandalorian Armor
Version:
1.1
Date:
11/09/2008
Category:
Weapons and Armor
Requirements:
7-Zip
Recommended:
Oblivion Mod Manager
Authors:
LHammonds
and
ThreeDees
Source:
TESNexus
File Mirror #1:
Planet Elder Scrolls
File Mirror #2:
MediaFire
File Mirror #3:
FileFront
File Mirror #4:
4Shared
File Mirror #5:
TES Alliance
RELz Thread:
The Official Elder Scrolls Forums
Homepage:
OBMM How-To Site
Description
It is rumored that outlaw bounty hunters have been seen near the road north of Leyawiin.
It is not known why they are there but it seems they are waiting for somebody...possibly for trading purposes.
These bounty hunters are skilled warriors and are considered very dangerous. Approach with caution. (Level 20+)
Screenshot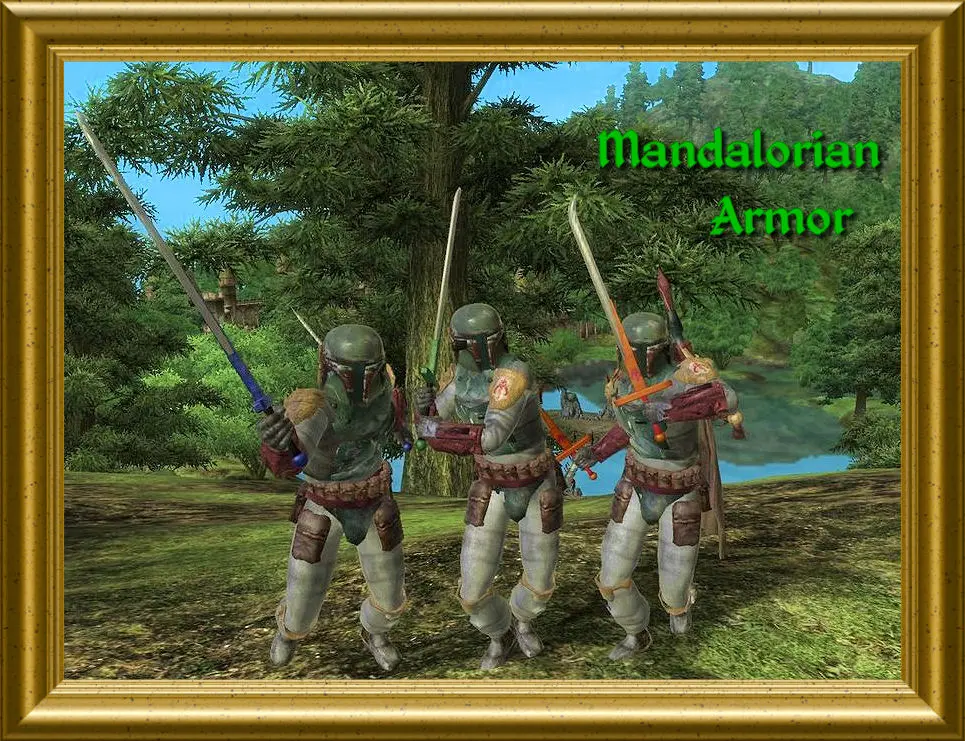 Details
Armor quality is equivalent to Glass.
Weapon quality is equivalent to Glass.
Install
This archive is distributed in what I call OMOD-Ready format.
It allows you to manually extract and install like most other mods but it also allows you to use Oblivion Mod Manager and import this archive with all the settings pre-configured for an OMOD file.
Please see the readme file for details.
Incompatibility
None known.
If this mod conflicts with another mod, uninstall the other one. This mod is compatible with Oblivion.
Known Issues or Bugs
When crouching, the rocket on the jet pack will clip the helmet. There is no way around this.
Sometimes the custom collision on the offhand weapons causes them to spring into the air when dropped on the ground just right.
History
1.1, 2008/11/09 - Fixed Ability skill going negative due to being increased over 255. Now maxes out at 255 via script.
1.0, 2008/08/10 - Initial release.
Future
I might create Jango Fett armor.
Contact
You can find me on the official Elder Scrolls forums as '
Conan_Lon
'
You can find me on TESNexus as '
LHammonds
'
Credits
Thanks to Bethesda for creating Oblivion.
Thanks to ThreeDees for the initial version of the armor and textures and allowing me to finish and release it.
Thanks to bauer for the German translation.
Thanks to Xvoh for the French translation.
Thanks to George Lucas for creating the Star Wars universe and his fantastic movies.
Thanks to TESNexus for the a one-stop-shop resource for authors and players.
Thanks to God for creating us all.
Tools Used
7-Zip
Blender
CrazyBump
DDS Converter
ESPluginCracker
NIFSkope
Oblivion Mod Manager
Paint Shop Pro
Readme Generator
TES4View and Edit
TES Construction Set
Licensing/Legal
Consider this a modder's resource. You can do whatever you want with this mod but all I ask in return is that you give credit where it is due if you distribute any part of this mod.
Frequently Asked Questions
Question: When is this mod going to be released?
Answer: Right now.