Mirror Threads:
Bethesda Forums
,
TES Alliance
,
CanadianIce
,
Oblivion Mod Wiki
Name:
Kodachi Swords
Version:
1.1
Date:
2/6/2011
Category:
Weapons
Requirements:
7-Zip
Recommended:
Oblivion Mod Manager
Author:
LHammonds
Source:
TESNexus
RELz Thread:
The Nexus Forums
File Mirror #1:
Planet Elder Scrolls
File Mirror #2:
MediaFire
File Mirror #3:
FileFront
File Mirror #4:
4Shared
Description
This mod adds Kodachi swords to a vendor shop.
Location
The weapons can be purchased at A Fighting Chance in the Imperial City Market District.
Screenshots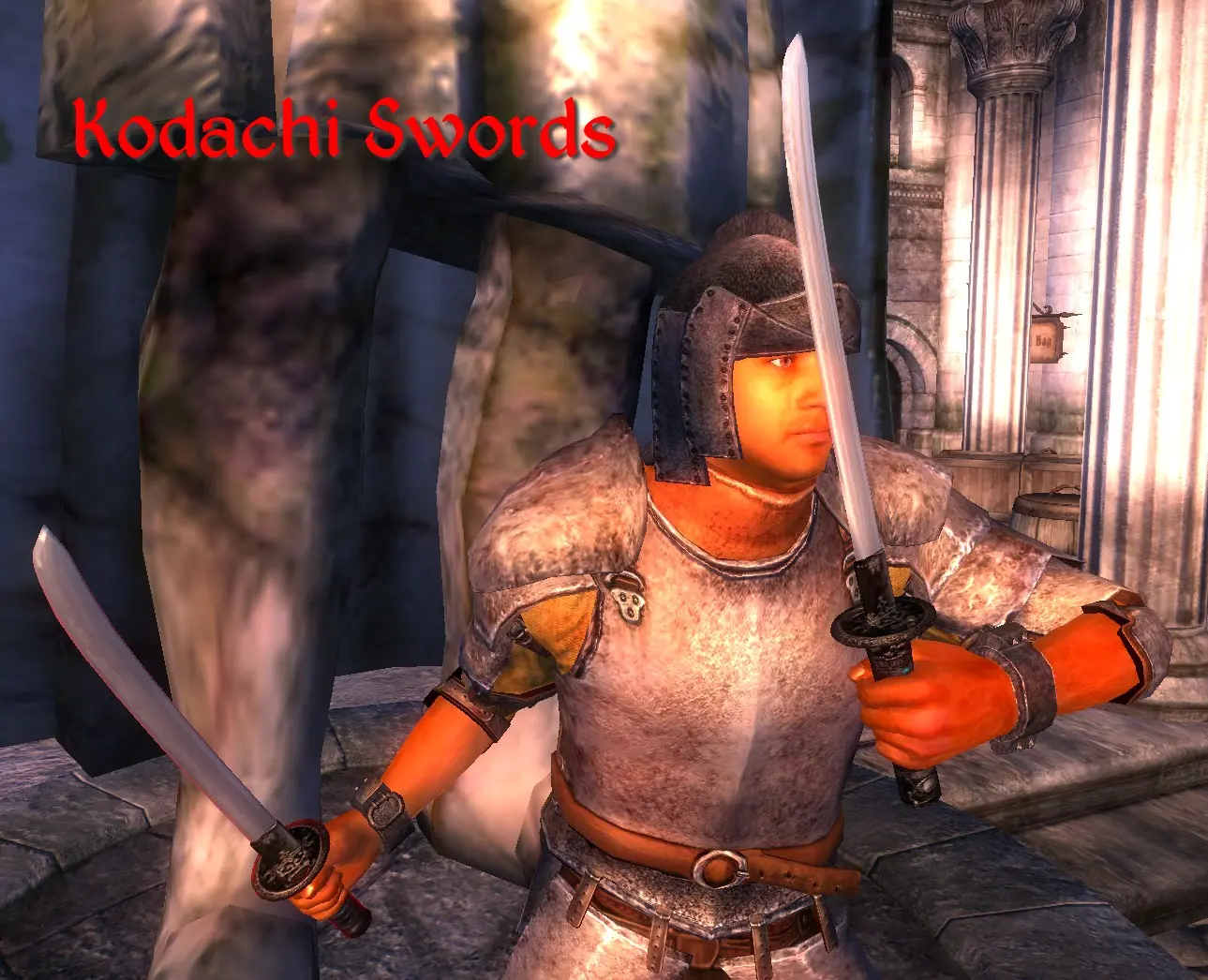 Swords Up-Close
Blender Render
Kodachi Enchantments
Kodachi Off-hand Enchantments
Kodachi Effects 1
Kodachi Effects 2
Details
The kodachi is a small Japanese sword that is shorter than a longsword but longer than a dagger...typically about 2 feet in size. It was made back in a time when Samurai were the only ones permitted to wear longswords. This allowed merchants to carry weapons that were larger than daggers.
The model is a modified Akaviri longsword and the UV maps were kept the same so that any Akaviri re-texture should work for this weapon as well.
The weapon stats are slight greater than Glass and are fully enchanted.
The primary sword is enchanted and can be used 100 times and has the following enchantments:
- Absorb Health 10 pts on strike
- Absorb Fatigue 10 pts on strike
- Absorb Magicka 10 pts on strike
- Fortify Blade Ability 10 pts
The off-hand (shield) version has the following enchantments:
- Fortify Strength 10 pts
- Fortify Intelligence 10 pts
- Fortify Willpower 10 pts
- Fortify Block 10 pts
- Reflect 10% Damage
- Restore 1 pt Health
- Restore 1 pt Fatigue
- Restore 1 pt Magicka
- Shield 10 pts
Install
This archive is distributed in what I call OMOD-Ready format.
It allows you to manually extract and install like most other mods but it also allows you to use Oblivion Mod Manager and import this archive with all the settings pre-configured for an OMOD file.
Please see the readme for more details.
Incompatibility
None.
Known Issues or Bugs
None.
History
1.1, 2011-02-06 - Corrected Fortify Blade and Block. Increased health of sword to match health of the off-hand.
1.0, 2011-02-05 - Initial release.
Future
Nothing planned.
Contact
You can find me on the official Elder Scrolls forums as '
Conan_Lon
'
You can find me on TESNexus as '
LHammonds
'
Tools Used
7-Zip
Blender
ESPluginCracker
NifSkope
Oblivion Mod Manager
Paint.NET
Readme Generator
TES Construction Set
Credits
Thanks to Bethesda for creating Oblivion.
Thanks to TESNexus for the a one-stop-shop resource for authors and players.
Thanks to Kyuukei for the original request and specifications of this mod.
Thanks to God for creating us all.
Licensing/Legal
You can do whatever you want with this mod but all I ask is that you give credit where it is due if you distribute any part of this mod.